Fr Z likes to refer to Benedict XVI, (and quite rightly,) as "the Pope of Christian Unity." (The Westminster Abbey Choir joining the Sistine choir at St. Peter's Basilica for the Feast of Ss Peter and Paul, for instance, was brilliant.)
He has a religious leader from another faith giving him a run for his money: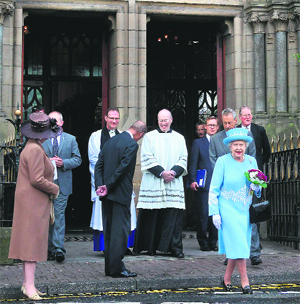 Queen Elizabeth II leaves St Michaels Roman Catholic
church in Enniskillen, Northern Ireland, on Tuesday.