I don't "do" my nails, (too lazy, use my hands to much, don't really want to call
attention
to their usually scarlet ugliness.)
Beyond that I have never, but never understood the amount of time women are willing to devote to them -- I did a show once, (union, Equity, rules-and-regs-professional, you understand,) where one cast member was incorrigibly late for every single rehearsal, and for half hour at most performances.
She was a new mother, and would always breezily tell the stage manager, "You don't know what it's like with a small child," and since indeed he did not and was loathe to project too Legreeish an image, she got a pass.
What no one ever called her on was the fact that she
did
have the time to have a new and elaborately colorful manicure every day, (the thought of the poor infant whose diapers were being changed by those talons was another matter. And we won't even think about the hygiene of the situation...)
So you see, I'm the sort of person who makes a virtue of sloth -- I act as if painted nails were the height of frivolity and self-absorption.
I've done them from time to time, when a role called for it, (Joanne in Present Laughter, Mart in Company,) for biggish occasions, weddings, (though not my own,) and maybe twice in my life my toenails, when open toed shoes entered my life.
All that said, is this not the
best
name ever for a nail color? (the namers-of-shades in the cosmetic industry put the much mocked namers-of-shades for J Crew all to shame.)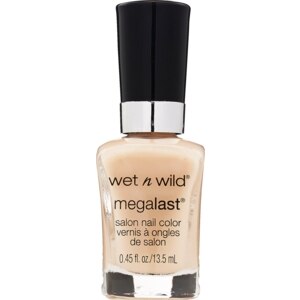 Wet N Wild Megalast Salon Nail Color
2% Milk
And it's really lovely, in truth. It's the sort of color I'd think about wearing. If I wore color...