I have warned a few people recently when they seemed to have forgotten that the fact that they "read it somewhere on the internet" says nothing one way or t'other about its veracity.
(At one time, I thought its having been read on Those Interwebs made it somewhat
less
likely to be true, but it's about 50/50, I now believe.)
That said, the Onion, Eye of the Tiber, Kimmel, Letterman, they all have to work harder now, don't they, when real life has become so absurd that it defies parody?
I came across a Trad in mediumish dudgeon regarding some stupidity perpetrated upon the Holy Sacrifice of the Mass, and clicked on a link to another purported sacrilege.
The pictures were so sheerly stupid, I assumed it was staged, maybe an EotT story mistaken for real news, (or at least what tries to be, there's plenty good Faux News to be found.)
And I don't know, the guy could suffer from PTSP, perhaps he needs a companion animal to keep him on a steady keel? or a service dog to keep him from tripping, walking into traffic...
But no, I did a little surfing - the story accompanying the headline
"The altar dogs of Texas"
is essentially true, a little mistake on the name of the loon responsible aside.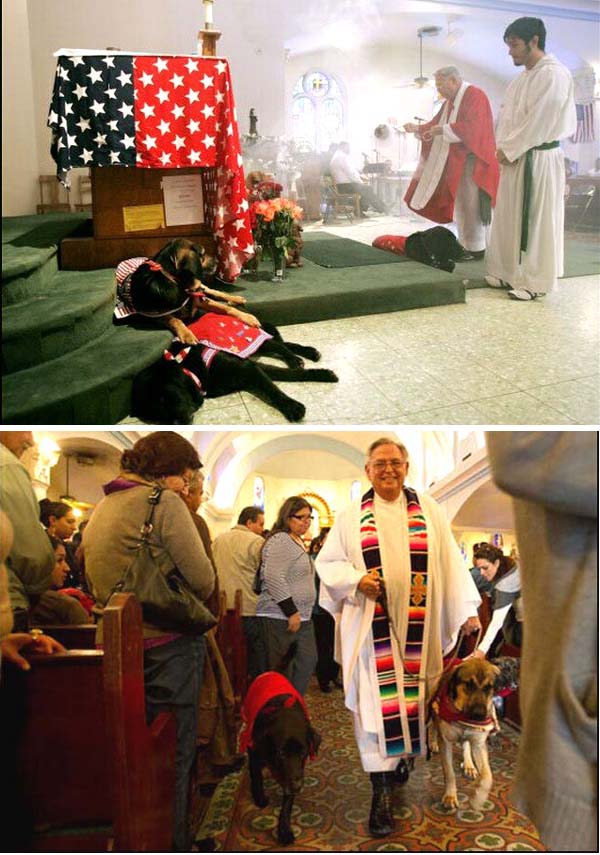 I won't correct it, nor will I link to more accurate info, nor will I name his bishop, (in the hopes that after the publicity the doofus received, his bishop has already quietly corrected him.)
By the way, how's
THIS
for liturgical music? (Make ya appreciate GIA, huh?)
You know I like my chicken fried
Cold beer on a Friday night
A pair of jeans that fit just right
And the radio up

Well I was raised up beneath the shade of a Georgia pine
And that's home you know
With sweet tea, pecan pie and homemade wine
Where the peaches grow
And my house it's not much to talk about
But it's filled with love that's grown in southern ground
And a little bit of chicken fried

Cold beer on a Friday night
A pair of jeans that fit just right
And the radio up
Well I've seen the sunrise
See the love in my woman's eyes
Feel the touch of a precious child
And know a mother's love

And its funny how it's the little things in life that mean the most
Not where you live, what you drive or the price tag on your clothes
There's no dollar sign on a piece of mind; this I've come to know
So if you agree have a drink with me
Raise your glasses for a toast
To a little bit of chicken fried

Cold beer on a Friday night
A pair of jeans that fit just right
And the radio up
Well I've seen the sunrise
See the love in my woman's eyes
Feel the touch of a precious child
And know a mother's love

I thank god for my life
And for the stars and stripes
May freedom forever fly, let it ring.
Salute the ones who died
And the ones that gave their lives so we don't have to sacrifice
All the things we love
Like our chicken fried

Cold beer on a Friday night
A pair of jeans that fit just right
And the radio up
Well I've seen the sunrise
See the love in my woman's eyes
Feel the touch of a precious child
And know a mother's love

You know I like my chicken fried
Cold beer on a Friday night
A pair of jeans that fit just right
And the radio up
Well I've seen the sunrise
See the love in my woman's eyes
Feel the touch of a precious child
And know a mother's love